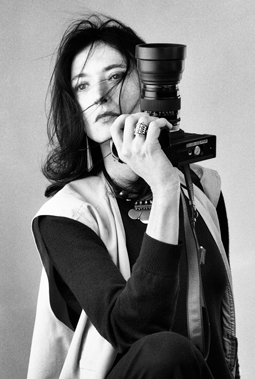 I began working as a photographer in 1982. At the beginning I was attracted by lightness and beauty. I have been a still photographer for cinema, and have been taking photo portraits of actors and musicians. In 1989 I started to travel to Asia, and since then I have been working also as a photojournalist and reporter. I worked in black and white and developed and printed all my photos. After September 11 2001 I decided to dedicate my work to social photography. Since then I have been working in cooperation with humanitarian organizations, for the realization of advocacy campaigns through exhibitions, calendars, books, reportage for the press.
I believe and practice a non-aggressive, non-predatory reportage, made essentially of portraits. I call it "reportrait", from the union of reportage and portrait. I have always considered portraiture the core of photography: born for taking portraits, photography will always include portraiture. Portraits are little stories, and I'm interested in little stories: they let me contact reality; they reflect the wider contexts and the big stories of which they are part.
My project is portraying the unaware, invisible beauty of the weak and giving voice to the voiceless in a compassionate, humanitarian way. I refuse to use the subjects of my photos for showing my ability as photographer and how cool I am. The subjects of my photos are the aim of my project.
It has often been said that highlighting the weak's beauty means to accept their weakness. On the contrary, I believe that being able to see beauty means to have vision, to have imagination, to have a mission: it means to be free. L. S.
Reportrait: this is how Laura Salvinelli defines her work, which merges the timeless empathy of the portrait with the urgency of humanitarian reporting. A refined portraitist of actors and musicians since 1982, she often travelled to the East. September 11, 2001 was a turning point in her life: her long- standing desire to put aesthetics at the service of ethics, making herself available to the humanitarian world, could no longer be postponed.
She left for Afghanistan as soon as possible. Since then, she has produced many reportages — for which she also writes the texts –, from Asia and from Africa, collaborating very closely with humanitarian organizations. Published by newspapers and magazines like Alias – il manifesto, Internazionale and Elle, her exhibitions include: The Cure (2004), about Afghanistan; On the First Noble Truth. Portraits of War, Exile and Renouncement (2005), about the Asian continent; Congo Reportraits (2007), about the Democratic Republic of Congo; Indiana. Reportage from the Largest Trade Union of Self-Employed Indian Women (2008), with texts by Mariella Gramaglia; In The Eye of a Woman for the World Bank, Washington D.C. (2007); Stop TB! for the World Health Organization, Hannover (2013); the collective Female Genital Mutilation 68 MILLION GIRLS AT RISK for Dysturb and the United Nations Population Fund, New York City (2019); AFGHANA. Reportage from the EMERGENCY Maternity Centre in the Panjshir Valley (2021). Virginia Vicario
History is made by details Anna Politkovskaja
They remain slaves because they can't see what is beautiful in this world Mohammad Iqbal
To love. To be loved. To never forget your own insignificance. To never get used to the unspeakable violence and the vulgar disparity of life around you. To seek joy in the saddest places. To pursue beauty to its lair. To never simplify what is complicated or complicate what is simple. To respect strength, never power. Above all, to watch. To try and understand. To never look away. And never, never to forget. Arundhati Roy
My work seen by Diego Mormorio (Italian)